All of the research I've done into historical costuming agrees that foundation garments are key to achieving the proper silhouette of the time period. For the 18th Century, this means stays, a chemise, pocket hoops or panniers, and petticoats. Lots of petticoats.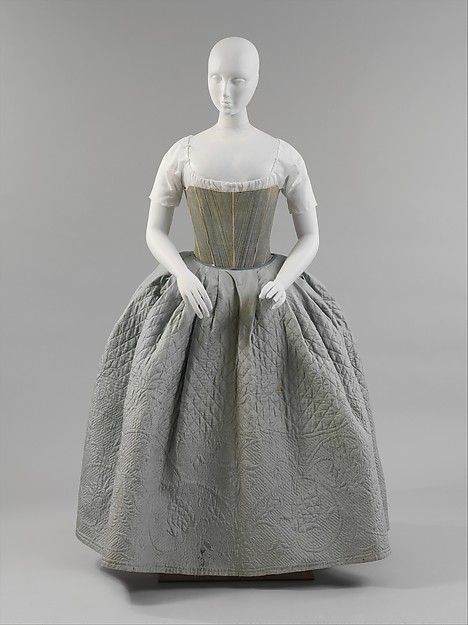 Stays and quilted petticoat, 18th Century, Metropolitan Museum of Art
I started on my first set of stays this week, using Simplicity 3635 as my pattern. It has shoulder straps and spiral lacing, which makes it period-accurate enough for me - at least for my first attempt. I'm using light blue cotton broadcloth for the outer fabric, and unbleached muslin for the lining. Since the pattern calls for 30 yards of boning, I decided to look online to find the best price possible. At corsetmaking.com I found
reed boning
, which is also period-accurate.
I ordered a coil of 1/2 inch flat oval reed.
The price was right, their shipping was fast, and I should have enough for three sets of stays! Now I just need to figure out how to cut it to length...
So far I have cut out the lining and the outer fabric.
I was a good girl and placed the pieces correctly on the straight-of-grain.
You can see that I have a lot of this light blue broadcloth. I also plan to make at least one petticoat out of it, which will be part of my mix & match 18th Century wardrobe. But stays first! Then I can tackle the robe a l'anglaise I already have fabric for, along with all the other gowns I have planned with fabric I do not yet own. And then I just need an occasion to wear them all! :p